Drum Development Association
Wee Drummers – Community Childcare Centre
Wee Drummers is a fully equipped childcare facility with an outdoor play area in a rural setting. Our play-based curriculum provides opportunities for children to learn through a wide range of activities. We also operate an open door policy so if you ever want to call in for a chat or a look around we are happy to help. Click here for a brochure with more details on Wee Drummers
History
The building served as a one teacher Presbyterian school up until the late 1970's. After this the building was sold off privately and over the years fell into a derelict state. In 2005 Drum Development Assocation leased the building from the current owner. Wee Drummers was opened in September 2008 with two staff, a Childcare Leader and Assistant. Funding to renovate the old building and equip it to a high specification, along with a safe outdoor play area, was received from the Department of Justice, Equality and Law Reform.
Services
Wee Drummers caters for children aged 2 years and 6 months until they leave national school.
Pre-School - open from 09:15-12:30 with the optional extra of a half hour from 12:30 - 1:00pm.
Pick-up - Children are collected from Drumcorrin NS at 2:00pm, staff support them to complete their written homework and they have time to play before their bus collects them.
After-School - This service runs on Tuesdays and Thursdays until 5:30pm. Children are brought to Wee Drummers by their parents / carers or by bus. Children complete their written homework, get some warm food and participate in a variety of different activities such as:
Swimming Lessons
Acrobatics
Scottish and Irish Dancing
Nature Walks
Bicycle Maintenance
Music Workshops
Arts and Crafts
Board Games
Monaghan County Council's Environmental Services and the Tidy Towns initiative have also been a great help and inspiration in helping children to develop a sense of wonder and responsibility for the natural world around them.
To qualify for the free pre-school year – which consists of 3 hours pre-school, 5 mornings a week during school term time, under the ECCE scheme your child must have had their third birthday before the 30th June of the year they wish to start Wee Drummers.
If your child does not qualify for this, the CCS scheme offers discounted childcare rates, in both the pre-school and afterschool service for parents that are in receipt of a medical card.
Pre-school Events
Throughout the pre-school year Wee Drummers will have weekly themes based on the children's interests in line with both Aistear and Síolta requirements. The Wee Drummers children also get involved in many fun and educational opportunities such as:
National Road Safety Week
This happens at the start of October. The Road Safety Authority has produced some wonderful resources that we use to encourage children to be safe on the road whether they are in a car, on a bike or walking. The local Garda visits Wee Drummers and this reinforces what they have learnt throughout the week and they enjoy getting to know the Guard, finding out about the uniform, and they get to sit in the Garda patrol car!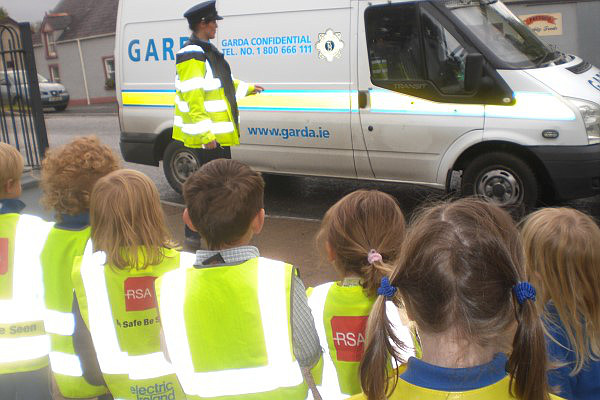 Cheerios Childline Breakfast
This event raises money for the valuable work that Childline do as well as stressing the importance of having a healthy breakfast. Wee Drummers host a fun filled morning of healthy breakfasts and games.
Team Hope Christmas Shoebox Appeal
Working together with parents, staff and other members of the community, the children donate shoebox's filled with clothes, and lots of other treats. These shoeboxes are then collected by the Irish organisation and distributed to children in African and Eastern European countries in time for Christmas.
Santa Morning
As a special treat Santa visits Wee Drummers and gives every child a gift. Last year the children were impressed because Santa arrived on his tractor!
See Events & News closer to Christmas for further details.
Christmas Play
Each year the children at Wee Drummers practice very hard and perform an adaptation of the first Christmas. Most of them enjoy performing for their parents, grandparents etc… while some are happy to show off their 'School' to our visitors.
National Pyjama Day
The children enjoy a fun day in their pyjamas, playing games, reading stories under the duvet and having a tea party whilst raising funds for a children's charity chosen by Early Childhood Ireland.
Easter and Summer Programme
We also run an exciting Easter and Summer Programme for pre-school and school-age children with arts and crafts, treasure hunts, and sports to keep them entertained during the holidays.
About Wee Drummers
Please contact Margaret or Doreen on 049-5555994 if you would like more information or you would like to enrol your child in Wee Drummers.
Ethos
Our friendly, qualified staff provide children of all ages with a caring, nurturing environment whilst encouraging them to learn new skills and concepts at an affordable price.
HSE Inspection
Wee Drummers is inspected regularly by the HSE our last inspection was in May 2011 and we were compliant in all areas of the inspection.
External Links
This programme is funded by the Irish Government under the National Development Plan 2007-2013