New IFI Project for Drum and Local Area
Last spring three local groups came together to form a partnership in order to make a funding application to the International Fund for Ireland. These groups are Drum Accordion Band(DAB), Mullaghboy Accordion Band (MAB) with Drum Development Association (DDA) as lead partner. There was great excitement in late July 2014 when the word came through that the application was successful under the Peace Impact Programme. A special word of thanks is due to the IFI's Development Officer, Gwen Lanigan, for her support through the process.
The first event listed under our new IFI Programme was a Barbeque / Social Evening to be hosted by Mullaghboy Accordion Band, Co. Cavan. The members of the Band pulled out all the stops to make the event a success and almost 200 people attended the Barbeque including Minister Heather Humphreys T.D., with responsibility for the Arts and the Gaeltacht. A great night was had by all and concluded with a song and dance session in Mullaghboy Orange Hall. The members of Mullaghboy Accordion Band were delighted with the financial support that they received from the IFI which enabled them to buy a marquee together with necessary kitchen equipment.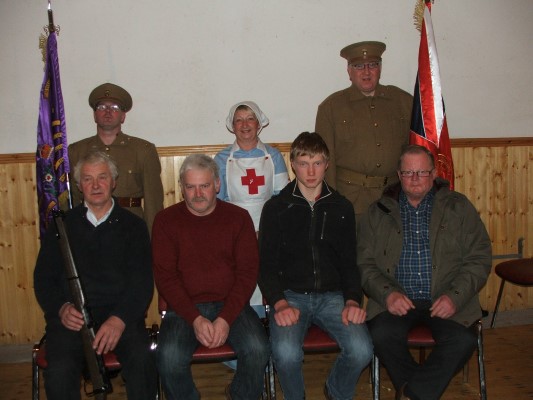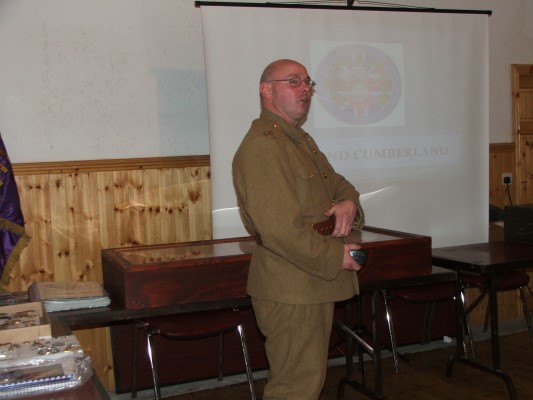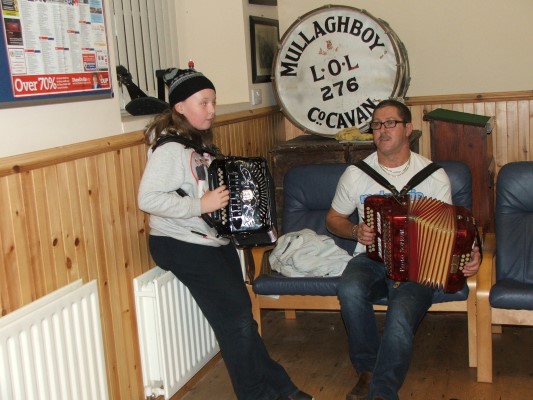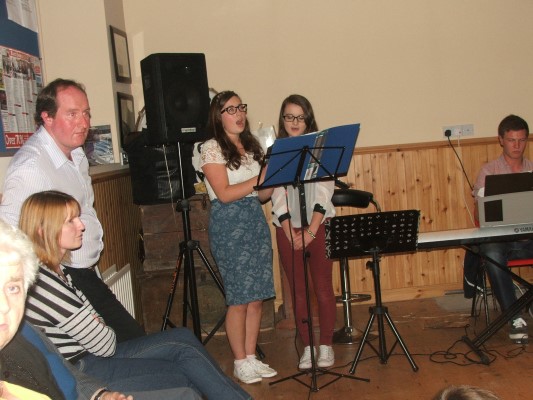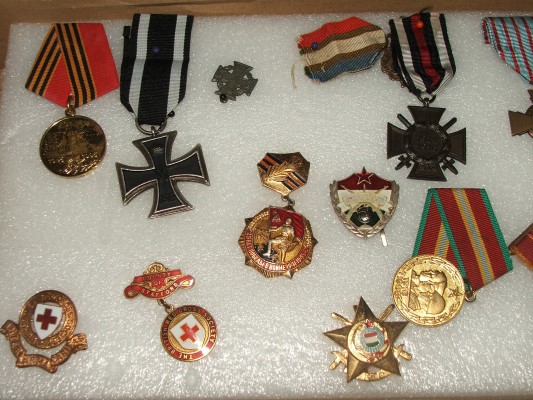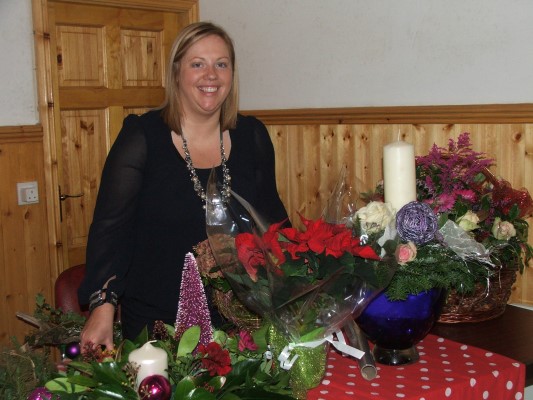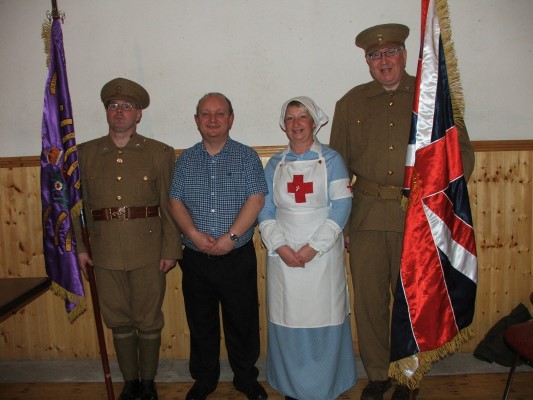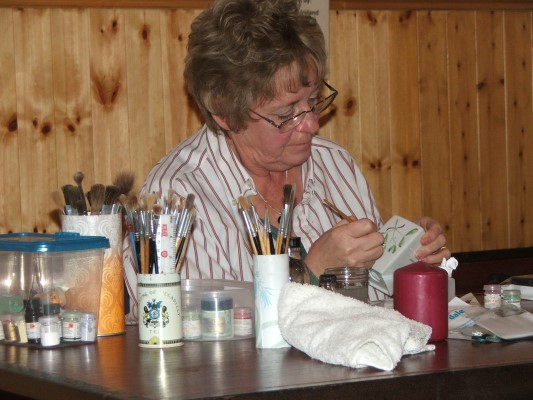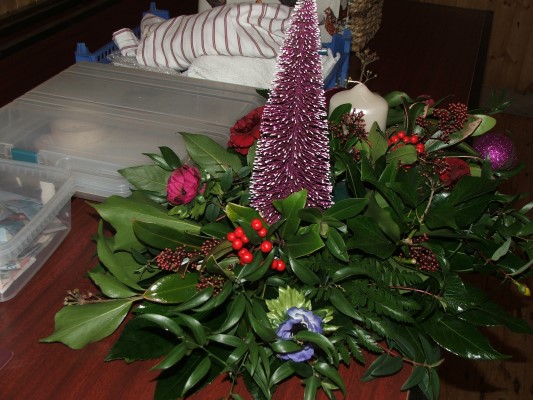 Meanwhile the members of Drum Development Association made a start on their part of the project and organised Child Protection Training for members of the three groups. Educational toys and equipment were bought out of the funding for Wee Drummers Childcare Centre in Drum Village and a range of activities have been planned for local children over the coming months. All of the After School activities are open to families from all sides of the community and are openly advertised with a welcome for all children.
There was a busy few weeks in the project in the run up to Christmas. In late November Drum Development Association hosted a Heritage Night in conjunction with Violet Hill Loyal Orange Lodge 571. The theme of the evening was The Great War and County Monaghan and Richard Edgar, historian, Co.Armagh, gave the lecture. In addition to this, an exhibition of World War I memorabilia was provided by Tyrone Somme Memorial Association.
A number of Christmas themed workshops for all ages were also held in December by Drum Development. These included specialist workshops for children over a few weeks tutored by local artist Tess Paley. The Christmas Ladies' Night included demonstrations on seasonal floral displays and glass and china painting. Seasonal treats were served including mulled wine, mince pies, Christmas brownies etc. A special word of thanks to Beth Stewart, Ruth Stewart and Angela Graham who provided the goodies!
As the New Year of 2015 got underway it was the turn of Drum Accordion Band to begin their planned activities. A six week course of social dancing began in mid January covering jiving, barn dances, waltzes, quick step etc. There is a great interest in the area in dancing and the classes are well supported with both adults and children taking part. The dance tutor, Frank Hurson, is kept busy putting the learners through their dance steps. A welcome cup of tea is provided each night.
Completed Activities
| No. | Date | Activity | Organising Group |
| --- | --- | --- | --- |
| 1 | 27.09.14 | Barbeque / Social Night | Mullaghboy Acc. Band |
| 2 | 03.10.14 | Security on Farms | Mullaghboy Acc. Band |
| 3 | 07.10.14 | Children First, Child Protection Training | Drum Development Association |
| 4 | 25.11.14 | Talk on The Great War | Drum Development / Violet Hill LOL 571 |
| 5 | Nov/Dec | Christmas Crafts for Children x 4 weeks | Drum Development Association |
| 6 | 09.12.14 | Christmas Ladies' Night | Drum Development Association |
| 7 | Jan/Feb 2015 | Social Dancing for Beginners x 6 weeks | Drum Accordion Band |
February 2015: Funny Feet Dance for Wee Drummers After School. Still a number of places remaining. Call 049 5555994 to book your child a place.
Easter Workshops for Children: 30th and 31st March.Special activities planned include a trip to Build a Bear Workshop in Bawnboy and a trip to the cinema. Fully booked, we regret that we have no places remaining.
Heritage Night on Wednesday 8th April in Drum Protestant Hall at 8.00 pm. The theme of the evening is "Ireland 1914 - 18: Home Rule, The Great War and the Easter Rising." The talk will be given by well-known historian and broadcaster Dr Eamon Phoenix, Stranmillis University College, Belfast.
Vintage Tractor & Car Run on Saturday 25th April. More details coming soon.
Production of Five Year Environmental / Tidy Towns Plan.
The IFI project was successfully completed December 2015